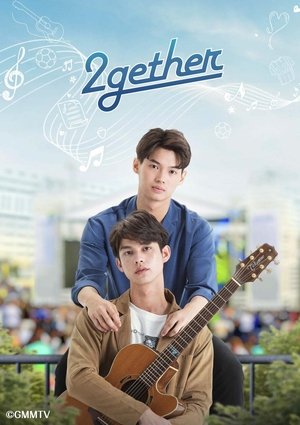 2gether: The Series
เพราะเราคู่กัน
Overview
A student named Tine wants to get rid of a gay admirer. His friends recommend getting a pretend boyfriend – Sarawat. But Sarawat plays hard to get, until he finally agrees. The two become close and intense emotions soon erupt. Are they just pretending or already have feelings for each other?
Cast

Win Metawin
Bright Vachirawit Chivaaree
Mike Chinnarat Siriphongchawalit
Toptap Jirakit Kuariyakul

Drake Laedeke

Frank Thanatsaran Samthonglai

Sivakorn Lertchoochot

Khaotung Thanawat Rattanakitpaisan

Pluem Pongpisal

JJ Chayakorn Jutamas
Chanagun Arpornsutinan

Phakjira Kanrattanasoot
Chalongrat Novsamrong
Crew
Champ Weerachit Thongjila
Seasons
Specials

2gether: The Series
2gether The TV Series (Thai Orginal Name: เพราะ เรา คู่ กัน) is a 2020 Thai TV Series starring Metawin (Nickname: Win) Opas-iamkajorn and Vachirawit (Nickname: Bright) Chiva-aree. This series is based on JittiRain's 2019 Thai novel of the same name, the series is about the love story of two college boys who start from a fake romantic relationship and later turn into a real couple with big love.
Tine (Metawin Opas-iamkajorn) is a freshman college student and self-proclaimed playboy at her university with a gay fan named Green (Korawit Boonsri). Tine wants to escape from Green that's why he tries to convince Sarawat to make a fake boyfriend (Vachirawit Chiva-aree), who is a guitarist and football player. Tine joins the music club for Sarawat. Finally, Sarawat accepts Tine's offer. The show continues to follow the ups and downs of their 'fake relationships' that later turn into a real relationship but without the usual issues of jealousy and insecurity that dating brings.
Directed by Weerachit Thongjila and co-produced by GMMTV's Housestories 8, the series was one of the twelve television series from 2020 that was shown at GMMTV's "New & Next" event on October 15, 2019. The premiere aired on GMM 25 and LINE TV on February 21, 2020, on Fridays at 21:30 ICT (previously 22:00 ICT for the first seven episodes) and 23:00 ICT. The series ended on May 15, 2020.
Due to its immense popularity, the series is considered to be one of the biggest contributors to men's love style to international fame. Just 3 months after the airing of its last episode, it became the most-watched Thai drama of the genre on various video streaming sites, including LINE TV and YouTube. The success of the series later led to a special 5-episode sequel called Still 2 Together, which aired on August 14, 2020. It can also be watched on Netflix.
2gether The Series Details / Info
Drama: 2gether
Based on: Because We … Belong Together (เพราะเรา … คู่กัน) by JittiRain
Country: Thailand
Episodes: 13
Aired: Feb 21, 2020 – May 15, 2020
Aired On: Friday
Original Network: GMM 25, LINE TV
Broadcaster: GMM 25
Production Company: GMM TV, Housestories 8
Duration: 41-70 min.
Content Rating: 13+ – Teens 13 or older
Native Title: เพราะเราคู่กัน
Also Known As: 

คั่นกู , Because we are together , 2gether: The Series , Phro Rao Khu Kan

Director: Champ Weerachit Thongjila
Genres: Music, Comedy, Gay Relationship, Romance, Drama, University, Pretend Relationship, Musician, Reserved Male Lead, College Life, Adapted From A Novel, Student, Multiple Couples, Pretends To Be Gay / Mistaken As Gay, Secret
2gether The Series Trailer
2gether The Series Novel
A fun novel is waiting for you. In the University, Tine wants to get rid of a gay who falls in love with him. For this reason, he makes himself a fake boyfriend. We share some parts of the novel with you. Read More
2gether The Series OST / Soundtrack
Although there was no direct Soundtrack belonging to the series, they created playlists for the music played in the series. The 2gether TV series can be a nice list for those who love music. Read More.
2gether The Series Social Media & More
2gether The Series Related Contents
Watch 2gether The Series
Watch 2gether below the link  (Red Button: Season 1)
[Eng Sub] เพราะเราคู่กัน 2gether The Series | EP.1 [1/4] Watch Now #2gether #series #tine #sarawat #bl #boyslove...
[Eng Sub] เพราะเราคู่กัน 2gether The Series | EP.1 [2/4] Watch Now
[Eng Sub] เพราะเราคู่กัน 2gether The Series | EP.1 [3/4] Watch Now
[Eng Sub] เพราะเราคู่กัน 2gether The Series | EP.1 [4/4] Watch Now
[Eng Sub] เพราะเราคู่กัน 2gether The Series | EP.2 [1/4] Watch Now
[Eng Sub] เพราะเราคู่กัน 2gether The Series | EP.2 [2/4] Watch Now
[Eng Sub] เพราะเราคู่กัน 2gether The Series | EP.2 [3/4] Watch Now
[Eng Sub] เพราะเราคู่กัน 2gether The Series | EP.2 [4/4] Watch Now