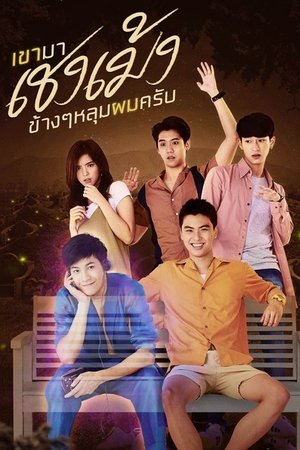 He's Coming To Me
เขามาเชงเม้งที่ข้างๆหลุมผมครับ
Overview
After his death, Met is a ghost that is consumed by loneliness. That is until he meets a strange boy that can see him. The two bond in a state of happiness and joy as they develop into friends. But what happens when Met falls for the boy who is alive?
Cast

Pawat Chittsawangdee

Prachaya Ruangroj

Arpornsutinan Chanagun
Crew
Backaof Aof Noppharnach
Seasons
Season 1
He's Coming to Me (2019) is Thai BL Series. Mes, the gentle heir to a wealthy family, mysteriously dies on his birthday and becomes a ghost. He waits for someone to visit in order to reincarnate in the cemetery where he has been buried for 20 years. However, his reincarnation plan changes completely when he sees Thun, a young boy can see and talk to him at every Ching ming Festival. Several years have passed, and Thun, now a college student, reveals that Mes was murdered and promises to determine the reason behind his murder and takes Mes to live with him. While solving problems with Mes' death, the boys fall in love with each other, although it is obvious that they must one day be separated.
He's Coming to Me Details
Drama: He's Coming to Me
Country: Thailand
Episodes: 8
Aired: Feb 28, 2019 – Apr 25, 2019
Aired On: Thursday
Original Network: LINE TV
Broadcaster: Line TV
Production Company: GMM TV
Duration: 1 hr. 15 min.
Content Rating: 15+ – Teens 15 or older
Native Title: เขามาเชงเม้งข้างๆหลุมผมครับ
Also Known As: 

Come to Me , Khao Ma Chengmeng Khang Khang Lum Phom Khrap , เขามาเชงเม้งข้างๆ หลุมผมครับ , They're Celebrating Qingming Festival Next to My Grave

Director: Backaof Noppharnach Chaiwimol
Screenwriter: Title Nirattisai Ratphithak
Genres: Friendship, Mystery, Comedy, Romance, Drama, Fantasy, Supernatural,Gay Relationship, Ghost-seeing Male Lead, Ghost, Gay Character, Nice Male Lead, Tragic Past, Adapted From A Novel, Tragedy, LGBTQ+, Interspecies Romance
He's Coming to Me Trailer
Watch He's Coming to Me
Watch He's Coming to Me below the link  (Red Button)
He's Coming to Me (2019) I Thai BL Series – [Eng Sub] เขามาเชงเม้งข้างๆหลุมผมครับ | EP.1 [1/4] Watch Now #เขามาเชงเม้งข้...