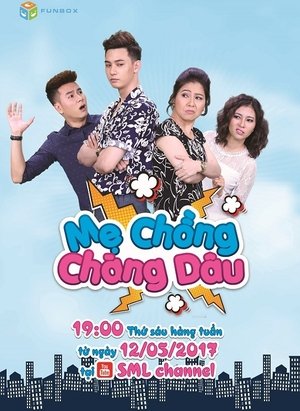 My Monster in Law (Mẹ Chồng Chàng Dâu)
Cast
Đoàn Huỳnh Duy Lâm
My Monster In Law (2017) is Vietnamese BL Series. Watch My Monster In Law (2017) | Vietnamese BL Series: Information, Details, Synopsis, Cast, Actors, Official Trailer, Aired Time, Drama, Episodes, Music, Novel.
#mymonsterinlaw #love #gay #vietnamesebl #blshows #vietnameseblseries #bxb #boyxboy #manxman #malexmale #manlove #asianboys #gayasian #asiangay #newearth #boyloveboy #boykissing #gaylove #gayrelationship #boyslove #blseries #lgbtq #lgbtq+ #asiandrama #asianguy #asianmen #vietnameseseries #vietnamesedramaseries #boysloveseries
My Monster In Law that has been aired by Youtube – SML Channel since 2017 and it is the prequel of My Monster In Law 2. The sequel of the series, My Monster In Law 2 also aired on Thursday 27th May 2021.
My Monster In Law which is a Vietnamese bl series starring Bá Đô Hoàng (Hùng Cường-Bá Đô), Huynh Diep Kieu Ngan (Thuỳ Dương-Kiều Ngân), Nghĩa Nguyễn (Đạo diễn-biên kịch Oril), Đoàn Huỳnh Duy Lâm (Jackie-Duy Lâm), Thuy Muoi Nguyen (Bà Ái-Thuỵ Mười) aired on Friday 12th May 2017 and ended on Monday 4th September 2017.  It is broadcast on Youtube.
My Monster In Law consists of 31 episodes, each lasting an average of 10-20 minutes.
My Monster In Law Synopsis
Hùng Cường-Bá Đô and Jackie-Saylâm, along with their colleagues, is a gay couple about the success of the Mother of Hùng and the success of a job inspired by Hùng's mother / Jackie's mother-in-law. The last one, the second has made it appear on the stage when he regrets the fact that Bà Ái-Thuỵ Mười in the mother-in-law does not come to the party.
After a long time spent in the United States of the United States, Bà is waiting for his home after a long time in the United States, with his wife (the presence, only recently accidentally). With his daughter, thuỳ Dương-Kiều Ng, they wonder how this woman can be, but when Hùng, when he arrives, it will be called to Jackie, a man (although the couple is passive, although the couple is passive. It is not a series wife and her husband).
The mother's reaction is one of the perplexity that gave their own illness about their expectations and his son's homosexuality and therefore strangely trying to beat him with a broom. Then, it is based on a fake and very short mother strike to blame his son to separate them.
As the strike did not have the effect and his son has not had the threat of return, he asked Jackie, because they return to America due to their behavior, but the Jackie has signed a contract that will last 3 months. , here is prompted to fulfill all orders. The latter accepts it and decides to use it to ensure their home jobs (or even overload him with unnecessary jobs).
Following the stormy first approach, Bà Ái softens a better thought towards Jackie and developing Jacka, while Jacka discovers that he didn't die when Jackie suddenly Hùng did not die when Hùng is small, but in reality, Bà ÁI, ten broke up for another woman many years ago. Trying to contact him has discovered that he died for 2 weeks through a son where he was in his second marriage.
After promising to protect the secret of Bà Ái, it does not say anything to Hùng, but the second one causes a deterioration in the family.
My Monster In Law

Details
Title: My Monster In Law
Native Title: Mẹ Chồng Chàng Dâu
Also Known As: My Monster In Law Mẹ Chồng Chàng Dâu
Country: Vietnam
BL Content: BL Sitcom
Air Date: Friday 12th May 2017
End Date: Monday 4th September 2017
Number of Episodes: 31
Broadcaster: Youtube – SML Channel
Production Company: Funbox
Genres: Romance, BL Content, BL Sitcom, Friendship, Youth, Drama, Gay Character, LGBTQ+, Gay Romance, Youtube Series, Vietnamese BL Series
My Monster In Law

Related Content
My Monster In Law Social Media & More
Watch My Monster In Law
Watch My Monster In Law below the link (Red Button)