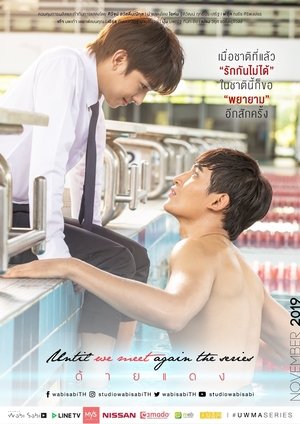 Until We Meet Again The Series
ด้ายแดงซีรีส์
Overview
Korn and In's love was doomed from the beginning. It was forbidden from the start — falling in love with the right person but at a wrong time, surrounded by parents who were enemies and a society that would shame their love. Their story never really had a happy ending. Ever since he was a little boy, Parm (19), has always seen a face in his dreams, a person he can not remember after he wakes up. Having a phobia of sudden loud noises, he has always felt like there's someone missing in his life— until he sees the swimming club's president, Dean (21), who has also been searching for a face he sees in his dreams, ever since he was young.
Cast

Fluke Natouch Siripongthon

Earth Katsamonnat Namwirote
Ohm Thitiwat Ritprasert
Kao Noppakao Dechaphatthanakun
Prem Warut Chawalitrujiwong
Boun Noppanut Guntachai

Coates Samantha Melanie
Seasons
Specials

Season 1
Until We Meet Again (2019) is the Thai BL Series. Thirty years ago, Korn and Intouch were university students in Bangkok. Intouch came into his life despite knowing that he was the son of Korn, one of Bangkok's most influential mafiators. At first, Korn continued to push Intouch away, but in the end, he could not resist such lively children as he was the opposite and decided to put him in his heart.
However, at a time when homosexuality was unacceptable and had their relationships and parents against each other, the love of Korn and In was doomed. Amidst the chaos, while Intouch continued to fight for his future, Korn was unable to deal with all the pain his lover faced and decided to give up. That day, two gunshots were heard in the air.
Their stories ended in tragedy, but something between them was already connected, connecting them even after he died.
Years later, Pharm (19), a freshman at T-University who just returned to Thailand, grew up feeling like he was always waiting for someone. Always full of wet face, fear of loud noises, and sad dreams that made him wake up with a birthmark on his temple, the boy always felt as if he had someone he lacked. Dean (21), the third class president of T-University swimming club, also spent his life looking for someone whose face he could not remember. The red thread of fate that ties them together in their past lives pulls the two children back to each other once again, connecting them with an unforgettable love for each other and a past not worth remembering. Because the red thread that connects two hearts will always lead one to the other. Even if it can tangle or stretch, but it will never break.
Until We Meet Again Details
Drama: Until We Meet Again
Country: Thailand
Episodes: 17
Aired: Nov 9, 2019 – Mar 1, 2020
Aired On: Saturday
Original Network: LINE TV
Duration: 45 min.
Content Rating: 15+ – Teens 15 or older
Native Title: ด้ายแดงซีรีส์ Until We Meet Again the Series
Also Known As: 

The Red Thread , Red String , Until We Meet Again: The Series , Dai Daeng

Director: New Siwaj Sawatmaneekul
Genres: Food, Romance, School, Youth, Drama, Family, Fantasy, Tragedy, Fated Love, Reincarnated Lovers, Soulmates, Adapted From A Novel, Gay Relationship, Reincarnation, Gay Character, Rebirth, College Life, LGBTQ+ , BL Drama
Until We Meet Again Trailer
Until We Meet Again Related Content
Until We Meet Again Special (Thai compilation)
Between Us (Thai side story)
Watch Until We Meet Again
Watch Until We Meet Again below the link  (Red Button: Season 1)