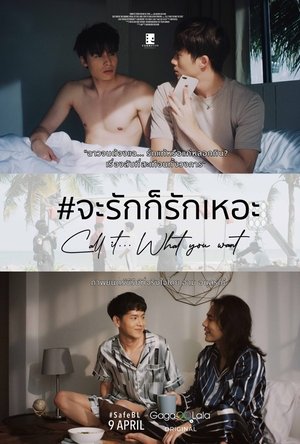 Call It What You Want
จะรักก็รักเหอะ
Overview
The story of BL director, James, who has a secret on-set romance with one of his actors, Ait. The series will explore the darker side of the entertainment industry, and the pressure actors receive from talent agencies; revealing the corrupted BL industry that is indeed far from perfection.
Cast

Time Dhamawat Suntanaphan

Michael Kiettisak Scofield
Daniel Chang

Kaprao Pongkorn Wongkrittiyarat
Benz Panupun Vongjorn
Seasons

Season 1
Call It What You Want (2021) is the Thai BL Series. Watch Call It What You Want (2021) | Thai BL Series: Details, Synopsis, Cast, Actors, Official Trailer, Aired Time, Drama, Episodes.
#จะรักก็รักเหอะ #CIWYWtheSeries #CallItWhatYouWant #QueerUptheVolume #GagaOOLalaOriginal #Commetiveprod #BLseries #BL #AamAnusorn #JamesCIWYW #AitCIWYW #BasCIWYW #MarcoCIWYW #KapraoCIWYW #ThaiBL
Call It What You Want Synopsis
It follows the director James Call Your Call, who is in disarray when he finds out not only that his boyfriend cheated on him, but that his drama was also canceled. James had a hard time coping until P'Tee invited him to work together on his new drama "2 Night." He met Bas and Ait, the leading actors of the new series he worked for at MTH production company; Both struggle with the expectations and pressures of the industry. The cast and crew of the series face these obstacles, as well as guiding the real romantic feelings that develop on set.
James, a handsome director, is desperate after his boyfriend Jack cheats on him. Taiwanese model Marco then stays with him and comes to his aid. James receives an invitation from a lead producer named P'Tee to shoot the BL drama series 2 Night. What he did not expect was a spark with another actor ––– Ait, who played the sub-role of the drama series. She feels like they've known her for years, as they seem to have an extraordinary intimacy.
Inspired by real events, CIWYW is about BL director James, who started a secret relationship with Ait, the lead actor of his new series. Ait's lead actor, Bas, feels the pressure of the BL industry: plastic surgery, strict diets, and worst of all, he is harassed by the show's producer.
At the same time, James's Taiwanese friend Marco is heartbroken when he learns about the relationship between his friend and Ait. However, when Bass learns about his condition, the two will go on a healing journey together.
Call It What You Want Details
Drama: Call It What You Want
Country: Thailand
Episodes: –
Broadcaster:  Gagaoolala
Production Company:  Commetive Production
Airs: Apr 9, 2021 –
Airs On: Friday
Native Title: จะรักก็รักเหอะ
Director: Aam Anusorn Soisa-ngim
Genres: Comedy, Romance, Film Director, Drama Director, Entertainment Industry, Gay Relationship, LGBTQ+, Actor, Gay Character, Inspired By Real Events, BL Drama
Call It What You Want Trailer
Call It What You Want OST / Music / Soundtrack
Call It What You Want Social Media & More
Watch Call It What You Want
Watch Call It What You Want the below link  (Red Button)
Call It What You Want – EP1 [ENG] Watch Now #จะรักก็รักเหอะ #CIWYWtheSeries #CallItWhatYouWant #QueerUptheVolume #GagaOOLalaOr...