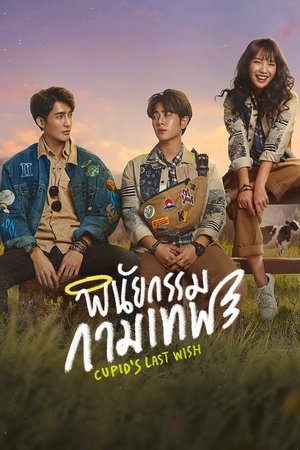 Cupid's Last Wish
พินัยกรรมกามเทพ
Overview
Korn and Win are best friends. But after Win's father dies, their friendship reaches a turning point and Win develops a grudge against Korn. When Win and his sister Lin get into a car accident, he wakes up and finds himself in Lin's body. The only way to fix it is to go collect holy water from four temples across Thailand with the aid of Korn. Can they fix the broken friendship and will another spark of feelings develop along the pathways of their adventure?
Cast
Earth Pirapat Watthanasetsiri

Mix Sahaphap Wongratch
Jan Ployshompoo Supasap
White Nawat Phumphothingam
Chanagun Arpornsutinan
Crew
Pong Pattarawalai Wongsinwises
Seasons
Season 1
Cupid's Last Wish (2022) is the Thai BL Series. Watch Cupid's Last Wish (2022) I Thai BL Series: Information and Details, Synopsis, Cast, Actors, Official Trailer, Aired Time, Drama, Episodes.
#พินัยกรรมกามเทพ #cupidslastwish #เอิร์ทมิกซ์ #EarthMix #mixxiw #explore #earthpirapat #earthmix#earthmixx #earthmixxiw #theearthe #mixsahaphap #taynew #taytawan#pondphuwin
Cupid's Last Wish Synopsis
Korn and Win are childhood best friends. Conflicts arise when Win's father includes Korn in his will and gives him a portion of the family's farm. Misunderstandings spoil their 22-year friendship.
Their paths cross again when Win gets into a car accident with her sister Lin and wakes up to find his soul in her body. To return to his original body, Win embarks on a 7-day journey in Lin's body to collect holy water from 4 temples around the country. The friend and foe of his journey is none other than his friend Korn.
Could this adventure change the course of their relationship forever?
Cupid's Last Wish Details
Drama: Cupid's Last Wish
Native Title: พินัยกรรมกามเทพ
Also Known As: Phinaikam Kammathep
Country: Thailand
Episodes: 10
Start Date: Monday 21st February 2022
End Date: Tuesday 22nd March 2022
Aired On: Monday, Tuesday
Screenwriter & Director: Golf Sakon Wong
Screenwriter: Pong Pattarawalai Wongsinwises, Noolek Sureechay Kaewses, M Rittikrai Kanjanawiphu
Genres: Adventure, Romance, Drama, Supernatural, Gay Romance, Friends To Enemies, Car Accident, Death Of A Parent, Road Trip, LGBTQ+, Sibling, Body Swap, Gay Character, Friendship
Cupid's Last Wish Trailer
Cupid's Last Wish Music / OST / Soundtrack
Cupid's Last Wish Social Media & More
Cupid's Last Wish Photo Galleries
Cupid's Last Wish Related Content
Watch Cupid's Last Wish
Watch Cupid's Last Wish below the link (Red Button)