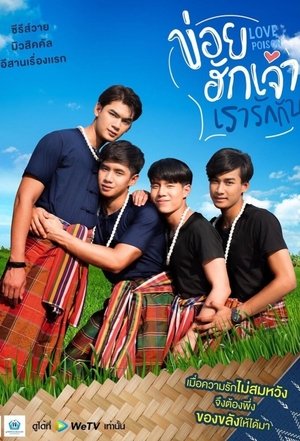 Love Poison
ข่อยฮักเจ้า เรารักกัน
Overview
Gone is an idol who likes to sing with many fans. But he never cares about anyone except the boy's footballer Therefore consulted a friend in order to find Love Poison water to change his personality, hoping to change the man who likes women Come to like men like myself Their relationship began in a good way. There is a singing lesson. But in truth Teng thinks only friends And will practice singing to flirt with net idol girls Their relationship became more intense Because when Ko left Teng felt that he couldn't be without this friend.
Love Poison 2 (2021) is Thai BL Series
#ข่อยฮักเจ้าเรารักกัน2 #WeTV #wetvalwaysmore #palladium #LovePoison #WeTV #BLislove #BoyLove #Wbldmas #Wbldym #BoysLove #loveislove #worldbldoramasymas
@perm_studios
Love Poison 2 Synopsis
Hot Love venom has another comeback and it begins the new season 2. The love story between an idol from the online drama and a football player from the elite college begins now.
Love Poison 2 Details
Drama: Love Poison 2
Country: Thailand
Episodes: 8
Aired: Mar 29, 2021
Aired On: Monday
Original Network: Tencent Video
Related Content
Native Title: ข่อยฮักเจ้าเรารักกัน 2
Also Known As:
Genres: Comedy, Romance, School, Gay Relationship, LGBTQ+, Gay Character
Love Poison 2 Trailer
Love Poison 2 Music / OST / Soundtrack
Love Poison 2 Related Content
Love Poison (Thai prequel)
Love Poison 2 Social Media & More
Watch Love Poison 2
Watch Love Poison 2 below the link  (Red Button)
Love Poison 2 – EP1 [ENG] Watch Now #ข่อยฮักเจ้าเรารักกัน2 #WeTV #wetvalwaysmore #palladium #LovePoison #WeTV #BLislove #BoyLo...