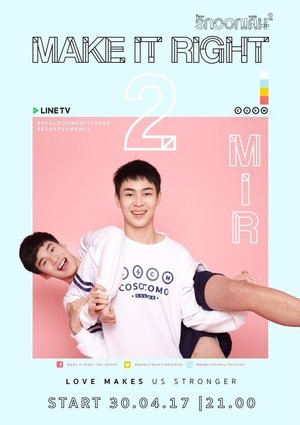 Make It Right The Series
Make It Right
Overview
Based on the popular BL novel "Make It Right", this drama follows the adventures and love lives of high school students. Fuse is a gentle and sensitive boy who is heartbroken because of his girlfriend who cheated on him, so he tries to get over her by getting drunk with his friends at a party. However, he meets his friend Tee there - and ends up sleeping with him that night. How is he going to cope with his new feelings for another boy and just how many boys who struggle with the same feelings are there at his school?
Cast
Imerbpathom Sittiwat
Pawat Chittsawangdee
Panichtamrong Peemapol
Boom Krittapak Udompanich
Ratanaumnuayshai Boonyakorn

Somkid Vichapol
Wongsamran Sutiwas
Lerganjanoi Kittiphong

Manasaporn Chanchalerm
Inthapuch Banyada
Plan Rathavit Kijworalak

Nonthanee Jirapun

Phumphothingam Tharathon

Thanahiransilp Kavinpat

Sakullerdpasuk Natpathara
Seasons
Season 1
Season 2
Make It Right 2 (2017) is Thai BL Drama. Watch Make It Right 2 (2017) | Thai BL Series: Information, Details, Synopsis, Cast, Actors, Official Trailer, Aired Time, Drama, Episodes, Music, Novel.
#makeitright2 #makeitrightseries2 #rukaukdern #ohmpawat #teefuse #framebook #ohmpawatfamily #ohmpawatcouple #ohmpawatchittsawangdee #ohmpawatworld #ohmpawatt #ohm #ohmtoey #thaibl #thaiblseries #gaycouples #manxman #malexmale #blcouple
Make It Right 2 (Thai: รักออกเดิน; RTGS: Rak Ok Doen) is a 2017 Thai boys' love romantic comedy series which aired on Line TV. The series is based from the novel, Make It Right by Badboyz. It is broadcast on Line TV. The second season consists of 14 episodes, each lasting an average of 45 minutes. The series began airing on Sunday 7th May 2017 and the second season ended on Sunday 5th August 2017. The story revolves around the burgeoning relationships of boys and how they deal with their emotions within themselves and in front of the judging society.
#manlove #asianboys #gayasian #asiangay #newearth #boyloveboy #boykissing #gaylove #gayrelationship #boyslove #blseries #lgbtq #lgbtq+ #asiandrama #asianguy #asianmen #thaiseries #thaidramaseries #boysloveseries
There is a main couple in the series. The pair is a pairing of Panichtamrong "Peak" Peemapol (playing the role of "Fuse") and Udompanich "Boom" Krittapak (playing "Tee"). There are other couples and actors who brought the series to life.
Make It Right 2

Synopsis
Season 2 continues where season 1 left…
Make It Right 2 which is the second drama in the series and based on the popular BL novel "Make It Right", continues to follow the love lives and adventures of young high school students.
Make It Right 2

Details
Title: Make It Right 2
Native Title: รักออกเดิน
Also Known As: Make It Right The Series 2, Ruk Auk Dern
Country: Thailand
BL Content: Drama with multiple BL couples
Air Date: Sunday 7th May 2017
End Date: Sunday 5th August 2017
Number of Episodes: 14
Director: New Siwaj Sawatmaneekul, Cheewin Thanamin Wongskulphat
Broadcaster: Line TV
Production Company: Cosocomo
Genres: Romance, Drama, Gay Character, LGBTQ+, Slow Romance, Infidelity, Love Triangle, Multiple Couples, Gay Romance, Bisexual Character, Thai BL, Thai Series
Make It Right Trailer
Make It Right 2

Music / OST / Soundtrack
Make It Right 2

Novel / Book
Make It Right 2

Related Content
Make It Right 2

Social Media & More
Watch Make It 2 Right
Watch Make It Right 2 below the link (Red Button)