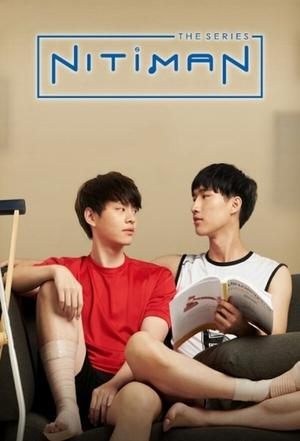 สังคมมนุษย์นิติและคนรัก
Cast
Noh Phouluang Thongpaseuth

Turbo Chanokchon Boonmanawong
Kaownah Kittipat Kaewcharoen
Tontae Tinnakorn Puwasakdiwong
Winner Tanatat Kunaneksin
Natty Thanyanan Pipatchaisiri
Fourwheels Chayanond Boonmanawong
Nitiman (2021) is Thai BL Series. Nitiman the Series is a series written by chamaij novels which will air soon produced by @plant.n.ent. Finally, we already met with 10 actors "Nitiman The Series". Sis feel delighted .⠀
#nitimantheseries #nitimantheseriesph #นิติแมนแฟนวิศวะ #NitimanTheSeries #มนุษย์นิติสังคมและคนรัก
***VPN Note: WeTV – Thailand, Portugal, Spain and The Philippines
Nitiman Synopsis
Jinake Saman is the university satellite in the engineering faculty known as the hottest month on the entire campus. Inside the campus, "Nothing and nobody is hotter than Mr. Jin!" One day, when his girlfriend broke up with him, he broke up in despair. He later discovered that the girl who broke his heart was the cousin of law student Bom. Jin misunderstands that Bom and her cousin are flirting while liking Jin. Bom had been loving him since freshman year a year ago, after he replaced Bom's lunchbox (because he couldn't eat anything spicy) with his own food and rice. As emotions grow between them, can Jin understand Bom's true intentions and see Bom as more than a teenager?
Nitiman Details
Drama: Nitiman
Country: Thailand
Episodes: 0
Aired:
Original Network: GMM One
Native Title: สังคมมนุษย์นิติและคนรัก
Production Company: PlanT.N Entertainment
Also Known As: 

Human society, forensics and lovers , Nitiman The Series , Nitiman The Society and the Lover

Genres: Romance, Life, School, Drama, Forensic Student, Engineering Student, Gay Relationship, Adapted From A Novel, Gay Character, LGBTQ+, Misunderstanding, Love/Hate Relationship, Hate To Love, BL Drama
Nitiman Trailer
Nitiman Music / OST / Soundtrack
Nitiman Cast Video
Nitiman Novel / Book
NITI man, society and lover By Hashemite J
# forensics and human love. #Fanart
please click for Synopsis and details
Nitiman Behind the Scenes
Nitiman Social Media & More
Watch Nitiman
Watch Nitiman below the link  (Red Button)
Nitiman Episode 2 [ENG] #nitimantheseries #nitimantheseriesph #นิติแมนแฟนวิศวะ #NitimanTheSeries #มนุษย์นิติสังคมและคนรัก Watch Now...