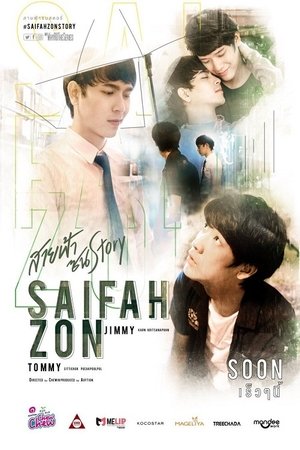 SaifahZon Story
สายฟ้าซนStory
Cast
Tonnam Piamchon Damrongsunthornchai

Jimmy Karn Kritsanaphan
Tommy Sittichok Pueakpoolpol
Perth Veerinsara Tangkitsuvanich

Seng Wichai Saefant
SaifahZon Story The Series (2020) is the Thai BL Series. Are you ready to watch the perfect Kissing Scene?
#bledit #blechannel #saifahzonstory #saizonedit #saifahzonspecialstory #saifahzonedit #saifahzon #mii2 #mii2yahom #tommyjimmy #jimmytommy #tommysittichok #jimmyjimmoi #domunditv #whyruedit #whyrucouple #whyruspecialep #whyrutheseries #thaiblseries #blseriesthailand #blseries2020 #lgbtq #lgbt
SaifahZon Story The Series Synopsis
The missing story of naughty lightning When they are faced with the question of Are they in fiction or are they in the real world? Find the conclusion of our love this time in Naughty Lightning Story. WHY RU? The story of our very sweet couple in the TV series. The audience will love it.
SaifahZon Story The Series Details
Special: SaifahZon Story
Country: Thailand
Episodes: 3
Aired: Dec 3, 2020 – Dec 17, 2020
Aired On: Thursday
Original Network: LINE TV
Native Title: สายฟ้าซนStory
Also Known As: 

Why R U: SaifahZon Story , สายฟ้าซนสตอรี่

Genres: Comedy, Romance, Drama, Gay Relationship, LGBTQ+, Adapted From A Novel, Gay Character, Sibling Relationship, Hate To Love Relationship, Memory Erasure, Love/Hate Relationship
SaifahZon Story The Series Trailer
SaifahZon Story The Series OST / Music / Soundtrack
SaifahZon Story The Series Love Scene | กูจะมีแค่มึงคนเดียว| WHY R U
SaifahZon Story The Series Related Content
SaifahZon Story The Series Social Media & More
Watch SaifahZon Story The Series
You can watch SaifahZon Story The Series Season 1 below the link  (Red Button)
Back to Main SaifahZon Story The Series Series Page
Back to Main SaifahZon Story The Series Series Page
Back to Main SaifahZon Story The Series Series Page
Back to Main SaifahZon Story The Series Series Page
Back to Main SaifahZon Story The Series Series Page