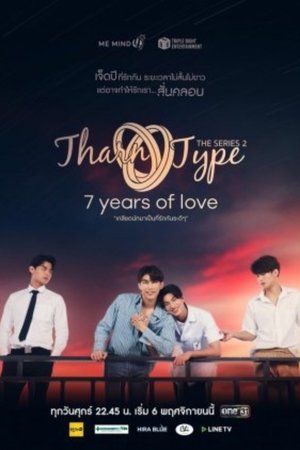 Tharn Type The Series เกลียดนักมาเป็นที่รักกันซะดีๆ 2
Cast
Sarunsathorn Tanawatcharawat
Thanayong Wongtrakul

Suppasit Jongcheveevat

Kanawut Traipipattanapong
Suttinut Uengtrakul
James Jirayu
TharnType 2: 7 Years Of Love (2020) is Thai BL Series. It is the second season of BL, starring Suppasit Jongcheveevat (Mew) and Kanawut Traipattanapong (Gulf), which was filmed due to the popularity of its first season. The series is a continuation of TharnType: The Series.
Type and Tharn have been together for seven years, and they both enjoy their wonderful lives. Of course, they are still arguing and meeting their university friends as a classic. Our couple are now working adults. However, they come across that working life is not that much. This life causes Tharn and Type to face many difficulties.
Will they be able to overcome their difficulties or will they be defeated by them? There is a responsibility that life brings. Also, each partner has its own desires and desires. For example, Tharn wants to get married, while Type does not. When hearts unite, a good result is achieved sooner or later. However, until this result, many problems, conflicts and conflicts may arise. Let's watch what they go through with our couple together. Get ready for their fun world.
Drama:

 

TharnType 2: 7 Years Of Love

Country:

 Thailand

Episodes:

 12

Aired:

 Nov 6, 2020 – Jan 22, 2021

Aired On:

 Friday

Original Network:

 GMM One

Duration:

 50 min.

Content Rating:

 18+ Restricted (violence & profanity)

Native Title:

 Tharn Type The Series เกลียดนักมาเป็นที่รักกันซะดีๆ 2

Also Known As:

 

TharnType The Series Season 2 , TharnType Season 2 , 7 Years Of Love

Director:

 Pique Passawut

Genres:

 Friendship, Romance, Drama, Family, Mature

Tags:

 

Gay Relationship,

 

Gay Character,

 

LGBTQ+,

 

Adapted From A Novel,

 

Love Triangle,

 

Possessive Male Lead,

 

Return From Abroad,

 

Complicated Relationship,

 

Basketball Player,

 

Caring Male Lead

 

Related Content

TharnType Special: Our Final Love (Thai prequel)

TharnType 2 Special 2 (Thai side story)

TharnType (Thai prequel)

TharnType Special: Lhong's Story (Thai side story)
TharnType 2: 7 Years of Love Details
Genre
BL
Based on
TharnType Story ภาคพิเศษ..อาถรรพ์ 7 ปี
by MAME12938
Written by
Orawan Vichayawannakul (MAME)
Directed by
Passawut Sukbua
Starring
Suppasit Jongcheveevat
Kanawut Traipipattanapong
Country of origin
Thailand
Original language(s)
Thai
No. of episodes
12
Production
Producer(s)
Orawan Vichayawannakul (MAME)

Akaranun Khankittinan
Production location(s)
Thailand
Production company(s)
Me Mind Y
Release
Original network
One 31
Original release
November 6, 2020 – present
TharnType 2: 7 Years of Love Social Media & More
TharnType 2: 7 Years of Love Related Posts
Watch TharnType 2: 7 Years of Love The Series
***You can watch TharnType 2: 7 Years of Love The Series Season 2 below the link (Red Button: Season 2)
Back to TharnType Season 2 Series Pages