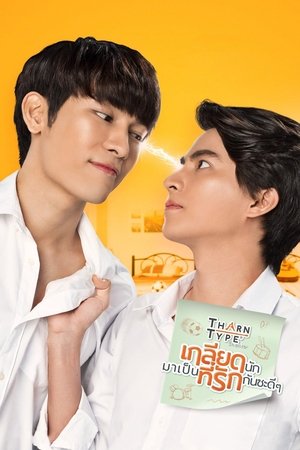 TharnType: The Series
เกลียดนักมาเป็นที่รักกันซะดีๆ
Overview
Type is a dark, tall and handsome freshmen. Although he's a warm boy, he is homophobic because he was molested by a man as a child. His life turns up side down when the new year of college brings along a very interesting person in his life, a gay roommate, Than. Than, is a very handsome music major with fair skin and mixed features. He is also openly gay. With a gay guy and a guy who hates gay men, that have to share a small space together for the rest of the year — what can possibly be the outcome of their story? Hatred? Or maybe love?
Cast

Suppasit Jongcheveevat

Kanawut Traipipattanapong
Suttinut Uengtrakul

Napat Srinakluan

Kittipat Kaewcharoen

Parinya Angsanan
Natthad Kunakornkiat

Wasin Panunaporn
Seasons

Season 1
Season 2
TharnType: The Series
is the 2019 Thai BL TV Series which actor are Kanawut Traipipattanapong (Gulf) and Suppasit Jongcheveevat (Mew). It is an adaptation of the popular web novel 
TharnType Story เกลียดนักมาเป็นที่รักกันซะดีๆ
 (eng. 
TharnType's Story: Hate You, Love You More
) by MAME (Orawan Vichayawannakul).
Type
is a tall and handsome freshman. Although he is a very friendly man, he is quite homophobic. Because he was harassed by a man as a child. When he started college, his life turns upside down because a gay roommate is involved in his life. Type (Kanawut Traipipattanapong) is a hot-tempered college freshman who hates gays. Once he enters university he decides to move from his hometown and stay in a dorm.
Tharn (Suppasit Jongcheveevat), a musician with fair skin and an American-Thai mix,  is also a kind and handsome guy who plays drums but unbeknownst to Type, he is actually gay. Type's best friend Techno (Suttinut Uengtrakul) later finds out about Tharn's sexual orientation. When Techno tells Type about the matter, Type immediately bursts into a rage. He tries various ways to kick Tharn out of the room, going as far as ruining Tharn's properties. Tharn, feeling that his sexuality is not wrong, constantly fights back until one occasion leads him to realize Type's traumatic past.
After 
Type
 found out he would live in the same room with a gay, What will he experience in the rest of the university season?
We'll see this fun story together. Will this problem turns to hate or love
TharnType The Series Social Media & More
TharnType The Series Awards
Line TV Awards 2020 – Best Kiss Scene
TharnType The Series Info
Thai
เกลียดนักมาเป็นที่รักกันซะดีๆ
Genre
BL
Based on
TharnType Story เกลียดนักมาเป็นที่รักกันซะดีๆ
by MAME
Written by
Orawan Vichayawannakul (MAME)
Vichayaporn Sukkul
Wanna Kortunyavat
Directed by
Bundit Sintanaparadee
Starring
Kanawut Traipipattanapong
Suppasit Jongcheveevat
Opening theme
ไม่ยอม (Be Mine) by Pop Jirapat
Ending theme
ขอแค่เธอ (Hold Me Tight) by Off Chainon
Country of origin
Thailand
Original language(s)
Thai
No. of seasons
2
No. of episodes
12 + 2 special episodes
Production
Production location(s)
Thailand
Running time
50 minutes
Production company(s)
Me Mind Y
Release
Original network
One 31
LINE TV (repeats)
Original release
7 October 2019 –
6 January 2020
TharnType The Series Related Posts
TharnType The Series Season 1 - Episode 1 (EP1)