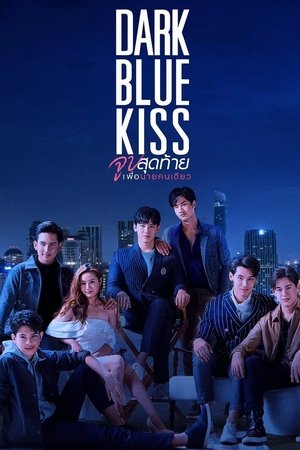 Dark Blue Kiss
รักไม่ระบุสถานะ
Overview
The continuation of Kao, Pete, Sun and Mork's story. Kao and Pete being in a blissful romance, have grown closer. But with Kao being closeted from his mother, he fears the dreaded thought of her finding out. His mother then introduces Non, a son of a colleague, as he requires tutoring from Kao. With Non constantly giving off 'iffy' vibes towards Kao, it only fuels Pete's jealousy. Their relationship is put in strain, but through this, they must ultimately overcome each other's flaws. They both blossom in their youthfulness coated by their everlasting fondness for one another. Surrounded by the wonder of dark blue, Pete and Kao surrender to their feelings. Sun starts taking hints from his unrequited love and slowly gives up on Kao. Through this Mork happened to possibly comfort him. Whilst Sun pushes Rain to stay away from Mork, the younger man's uncontrollable behaviour brings him in. As his wildness is intriguing, Sun's seriousness holds Mork down somewhat. Underneath it all, the two start to care for each other. However, with Mork's dangerous life, he can't shake who he is. But maybe he can for someone like Sun.
Cast

Thitipoom Techaapaikhun

Tay Tawan Vihokratana

Podd Suphakorn Sriphothong

Fluke Gawin Caskey

Mild Lapassalan Jiravechsoontornkul

Pluem Pongpisal
Crew
Backaof Noppharnach Chaiwimol
Seasons

Season 1
Dark Blue Kiss (2019) is Thai BL Series. Watch Dark Blue Kiss (2019) | Thai BL Series: Information, Details, Synopsis, Cast, Actors, Official Trailer, Aired Time, Drama, Episodes, Music, Novel.
#petekao #กินกันกับเตนิว #newtay #DarkBlueKiss #เตนิว #โพก้า #ฮันนี่ #ชาวบ้าน #DarkBlueKissTheSeries #love #gay #thaibl #blshows #thaiblseries #bxb #boyxboy
Dark Blue Kiss (Thai: Dark Blue Kiss – จูบสุดท้ายเพื่อนายคนเดียว; Dark Blue Kiss – Chup Sut Thai Phuea Nai Khon Diao; lit. Dark Blue Kiss – The Last Kiss For The Lone Master) is the 2019 Thai TV series starring Tawan Vihokratana (Thai), Thitipoom Techaapaikhun (New), Suphakorn Sriphothong (Pod), Gawin Caskey (Fluke), and Chayapol Jutamat (AJ).
The series, directed by Aof Noppharnach and produced by GMMTV, was one of the thirteen television series for 2019 that it launched at GMMTV's "Wonder Th13teen" event on November 5, 2018. It made its premiere on GMM 25 and LINE TV on October 12, 2019. Saturday 21:25 ICT and 23:00 ICT. The series ended on December 28, 2019.
#manxman #malexmale #manlove #asianboys #gayasian #asiangay #newearth #boyloveboy #boykissing #gaylove #gayrelationship #boyslove #blseries #lgbtq #lgbtq+ #asiandrama #asianguy #asianmen #thaiseries #thaidramaseries #boysloveseries
Starting off from the Kiss Me Again series, Pete (Tawan Vihokratana) and Kao (Thitipoom Techaapaikhun), who is still closed to his mother, became closer in their relationship. While her sister goes to college, Kao financially supports her mother by tutoring high school students part-time.
The principal of the school where his mother works asks Kao to teach his son Non (Chayapol Jutamat) after hearing that he is a good teacher. Pete crosses paths with Non at a competition and angers him after learning that Kao is teaching him. Pete's relationship with Kao, who does not fuel his jealousy, is tested on many occasions.
Sun (Supakorn Sriphotong), who had been chasing Kao before, was nagging Mork (Gawin Caskey) for dragging his younger brother Rain (Pluem Pongpisal) into his troubles. To help Mork change his life, Sun offers Mork a job in his cafe. The two start to take care of each other along the way. However, while Mork's dangerous life still haunts him, Sun makes it clear that he is there because he cares for him.
Dark Blue Kiss

Synopsis
Continuation of the story of Kao, Pete, Sun and Mork. While Kao and Pete's relationship grows stronger, they still hide it from most.
Kao moves away from her mother, and her mother's fear of discovering her puts emphasis on both her and her relationship. Meanwhile, Kao's mother introduces her boss's son, Non, as a student who needs Kao's lesson. When Non takes an interest in Kao, he fuels Pete's jealousy. Secrecy and jealousy put pressure on their otherwise thriving relationship.
Sun began to give up his unrequited self with Kao. And suddenly Mork is around a lot more. As the sun pushes Rain to stay away from Mork, the young man's uncontrollable behavior draws him in. Sun's seriousness knocks Mork down. Despite their constant conflict, the two become interested in each other.
Dark Blue Kiss

Details
Dark Blue Kiss

 

Trailer
Dark Blue Kiss

 

Music / OST / Soundtrack
Dark Blue Kiss

Novel / Book
Dark Blue Kiss

Related Content
Dark Blue Kiss

Social Media & More
Watch

Dark Blue Kiss
Watch Dark Blue Kiss below the link (Red Button)