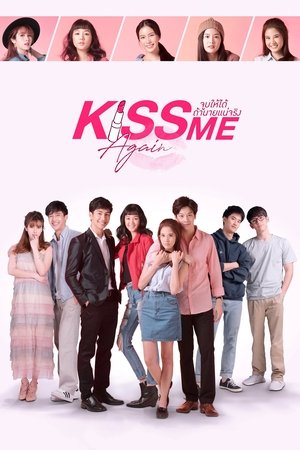 Kiss Me Again
จูบให้ได้ถ้านายแน่จริง เร็วๆนี้
Cast

Thitipoom Techaapaikhun

Vihokratana Tawan
Chutavuth Pattarakampol

Lummakanon Jintanutda

Wijitwongthong Tanutchai
Kanyawee Songmuang

Earth Pirapat Watthanasetsiri

Sananthachat Thanapatpisal

Nammon Krittanai Arsalprakit
Kiss Me Again (2018) is Thai BL Drama. Watch Kiss Me Again (2018) | Thai BL Series: Information, Details, Synopsis, Cast, Actors, Official Trailer, Aired Time, Drama, Episodes, Music, Novel.
#kissmeagain #TAYNEW #TAYTAWAN #NEWWIEE #POLCA #PETEKAO #kisstheseries2 #kiss2 #gmmtv #gmm #jirakitth_c #wjmild #mookworranit #taophiangphor #ทีมแสนดี #mekmild #thaibl #thaiblseries #gaycouples #manxman #malexmale
Kiss Me Again (Thai: Kiss Me Again – จูบให้ได้ถ้านายแน่จริง; Kiss Me Again – Chup Hai Dai Tha Nai Nae Ching) is a Thai TV series starring Sananthachat Thanapatpisal (Fon), Kanyawee Songmuang (Thanaerng), Chutavuth Pattarakampol (March), Thitipoom Techaapaikhun (New), Tanutchai Wijitwongthong (Mond), Jintanutda Lummakanon (Pango) , Pirapat Watthanasetsiri (Earth) and Tawan Vihokratana (Tay).
#manlove #asianboys #gayasian #asiangay #newearth #boyloveboy #boykissing #gaylove #gayrelationship #boyslove #blseries #lgbtq #lgbtq+ #asiandrama #asianguy #asianmen #thaiseries #thaidramaseries #boysloveseries
The series which was directed by Weerachit Thongjila and produced by GMMTV together with Housestories 8, was one of the ten television series for 2018 showcased by GMMTV in their "Series X" event on 1 February 2018. It premiered on GMM 25 and LINE TV on 22 April 2018. Airing on Sundays at 20:30 ICT and 22:30 ICT, respectively. The series ended up on 22 July 2018.
Kiss Me Again

Synopsis
It takes place before the events of "Kiss: The Series." It focuses on Sandee's and Sanrak's older sisters. In this series, as we learn about how Kao's and Pete's relationship came to be, we also see how June, Sandee, Thada, Pete, and Kao all became friends.
Kiss Me Again

Details
Title: Kiss Me Again
Native Title: จูบให้ได้ถ้านายแน่จริง เร็วๆนี้
Also Known As: Kiss: The Series 2 , จูบให้ได้ถ้านายแน่จริง
Country: Thailand
BL Content: BL Drama
Air Date: Sunday 22nd April 2018
End Date: Sunday 22nd July 2018
Number of Episodes: 14
Director: Champ Weerachit Thongjila
Broadcaster: GMM 25
Production Company: GMM TV
Genres: Romance, Drama, Multiple Couples, Gay Character, Bisexual, Adapted From A Web Novel, LGBTQ+, Hate To Love, Gay Romance, Secret Romance, Clingy Ex-girlfriend, Jealous Male Lead, Thai BL Series
Kiss Me Again Trailer
Kiss Me Again

 

Music / OST / Soundtrack
Kiss Me Again

Related Content
Kiss Me Again

Social Media & More
Watch Kiss Me Again
Watch Kiss Me Again below the link (Red Button)